The Best of Both Worlds
As an All-Star and High School Cheerleader, I've gotten questions like, "How are you
doing this?", " Aren't they the same exact thing?", or " Are your coaches ok with this?"
In my opinion, no they aren't the same, and yes the share different qualities, but there's
something about both of them that brings out the best in me.
High School Cheer 
When I tried out for high school cheer, I only thought of it as an extracurricular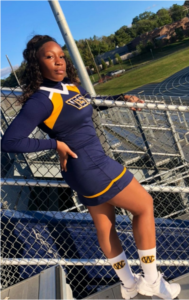 activity. I also thought that I wouldn't be able to commit to high school cheer
because of my commitment to all-star cheer. Which meant missing games,
practices and NO EXCUSES. Then again, I realized how I was a leader to the
other girls on the team. Yes, I said, "LEADER". At first, I couldn't believe this
because I'm a sophomore in high school, I didn't think anyone on the team
previously would listen to me. I didn't want people to take me as a threat or as
an overachiever just because I am an All-Star cheerleader. You know what they
say
"SHE THINKS SHE'S ALL THAT BECAUSE SHE'S AN ALL-STAR
CHEERLEADER"
But, I realized that people want to see my talents, and want me to show off, and
not blend in with the rest. I love how my teammates admire the fact that I can
tumble, stunt, jump, and teach them all how to. Even though they get frustrated
at times, they'll always have a shoulder to lean on.
All-Star
As we all know, to be an All-Star cheerleader with strong commitment means
"HAVING NO LIFE." When I first introduced the idea of me doing high school
cheer to some of my teammates and coaches, there were some face turns, and
"how are you going to do that?" questions. There were also some comments that
were "wow that's awesome," "isn't that a little much," " man you've got a busy
schedule," and "I wish I could that too." When I made the team everyone was
excited, but then I realized that the practices were on the same days and the
times we're so close. I thought to myself "HOW AM I GOING TO DO THIS?"
Feeling in doubt,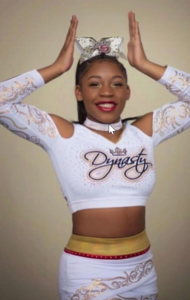 I talked to my coach about it, and he said: "we'll make it work." I
looked up and said "come again" I thought I was dreaming, but his exact words were "WE'LL MAKE IT WORK." I really couldn't believe it. Now I'm not saying my coaches never supported me to do other things, but this is was BIG. When I told my teammates, they were filled with joy. Now that I'm doing high school cheer some of my other teammates are now trying out for their schools too. I love how I became a trendsetter for my teammates by showing them not to give up or be in doubt. I also love how I get to embrace myself and my teammates in a different world of cheerleading.
HIGH SCHOOL AND ALL STAR CHEER AREN'T PHYSICALLY THE SAME BUT
THEY ARE MENTAL BY HAVING THE COMMITMENT, LEADERSHIP AND
BY BRINGING THEM TOGETHER AS ONE
~Leah Thompson
IG: @leccheers_